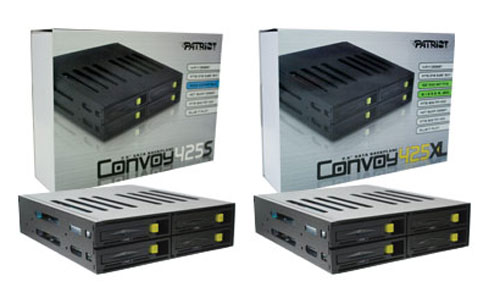 When it comes to memory for your computers or SSDs to store your data on Patriot has you covered. What some of us need is a way to store more data inside some of the unused optical drive bays on a desktop computer. Patriot has you covered there too with its Convoy line of storage devices.
Patriot has added a couple new products to the Convoy line today that have four 2.5-inch drive bays. The new products are the Convoy 425S and the 425XL and both are very similar. They have an aluminum chassis and 40mm fans to keep the drives inside the hot swap bays cool.
Those bays will hold any 2.5-inch SSD or HDD that is 12.5mm or under in those bays. The difference between the two is that the 425XL supports hardware RAID 0/1/3/5/10 JBOD. Patriot says that the 425XL hit 240K IOPS when using Patriot Inferno SSDs inside.
Patriot, RAID, Storage