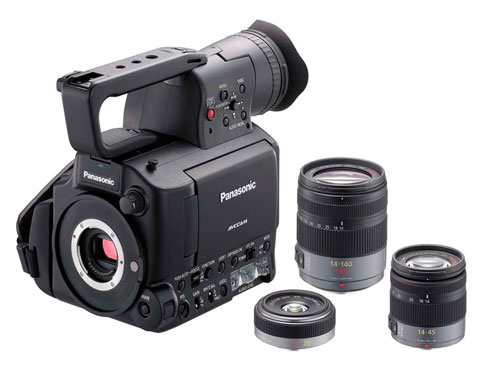 Panasonic has unveiled a new camcorder that grabs the title of world's first micro four-thirds camcorder. The camera is rather big and bulky looking and reminds me of the old camcorders from the 80′s with its square design.
The camcorder is called the AG-AF105 and it has interchangeable lenses using the micro four-thirds system. The camera apparently works with the same lenses the still cameras from Panasonic support. The large image sensor allows for wide-angle video.
The camera supports 1080p, 1080i, and 720p recording in multiple frame rates. Video is stored to SD/SDHC/SDXC memory cards and the camera has a HDMI output for watching on a big screen. The measurements are 163.4 x 209.4 x 195mm and it weighs 1.2kg. The camera will hit Japan in December at 837,900 yen.
Camcorders, Panasonic