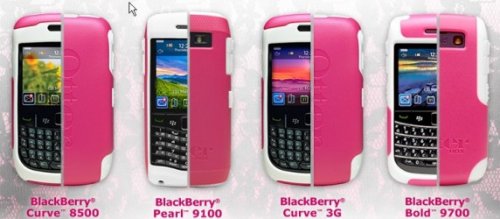 You can walk against cancer, run against cancer, crawl against cancer, or buy some pink gadgets. Personally, I can't see that ever beating cancer, though it does put your money in some deep pockets to be mis-managed and pillaged. But if you are not as jaded as I, you might want to join the good fight and get yourself these pink OtterBox cases.
They support the Avon Breast Cancer Crusade and the 2010 Avon Walk for Breast Cancer by offering a limited edition, pink and white Commuter Series for the BlackBerry called "Strength" cases. The following BlackBerry's will be supported: BlackBerry Curve 8500/9300 series, Pearl 3G and Bold 9700 series.

From each purchase 10% will be donated to the Avon Breast Cancer Crusade. Each of the BlackBerry Commuter Series Strength Cases retail for $34.95.
BlackBerry Cases, cancer, Otterbox, pink