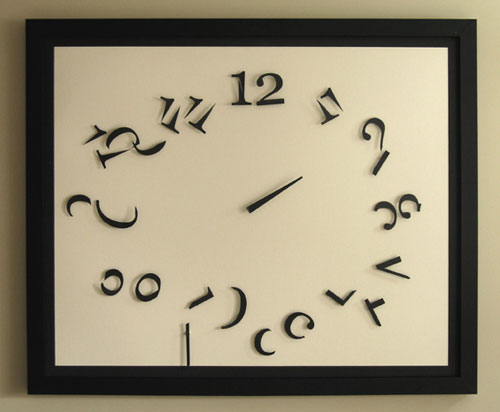 We have seen our share of strange clocks around there and typically, when we are talking timepieces they are wristwatches from Tokyoflash or some similar purveyor of odd watches. This wall clock is from a designer that was looking to make a statement about the order in chaos.
The clock has the numbers you expect to see around the clock face, but those numbers are broken into bits. As the hour gets closer, the numbers slowly take more from until you can read them. The single hand in the center of the clock is for minutes.
In the image, you see here the time would be 12:10. Some of the numbers are much easier to read than others. You can see the time-lapse demo of the clock here to see how hard to read some of the numbers are. You can pick up your own custom clock for $2000.
clock, Concepts