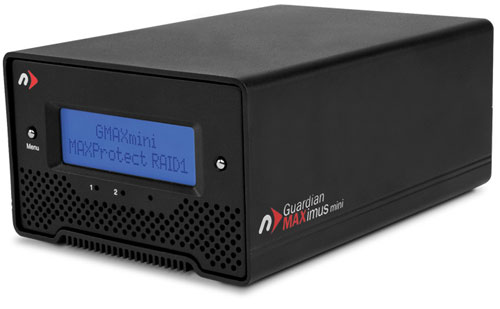 If you have important data on your notebook that you take with you so you can work on the go, you should be backing it up. The problem is that some data is so important you need to do more than just save it to an external HDD. This is why folks use RAID arrays in an office setting.
NewerTech has unveiled a new portable RAID storage solution that supports RAID 0 and RAID 1 with dual drives inside. The device is called the Guardian Maximus mini and it sports four different interfaces to allow it to work with Mac and PCs.
The interfaces include FireWire 800/400, USB 2.0, and eSATA. Inside the small 3.5″ x 5.2″ x 2.1″ case are a pair of HDDs or SSDs. A device with a pair of 500GB HDDs inside is $249.99 and the largest capacity version has a pair of 750GB HDDs for $399.99. The SSD version can be had with two 200GB SSDs for $1349 or a pair of 400GB SSDs for $3299.
external storage, RAID