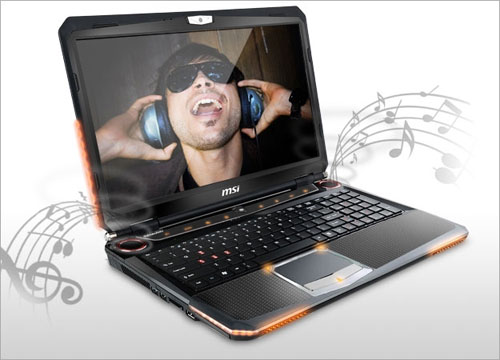 MSI has a wide range of notebooks and other computers in its line that include some nice netbooks and AIO desktop offerings. The company has added some interesting new notebooks aver the last month or so to its offerings and among them are the new GX660 and GX660R notebooks.
The two notebooks both have 15.6-inch screens WiFi, Bluetooth, 720p HD webcams, HDMI output, ATI Radeon HD 5870 Broadway XT graphics, and USB 3.0 ports. Some of the other hardware differs between the models. The GX660 has an Intel Core i5-450m CPU, 4GB of RAM, and 500GB of storage.
The GX660R has a Core i7-740QM CPU, its LCD has 1920 x 1080 resolution, and it has a Blu-ray drive. Other specs include 6GB of RAM and 640GB of storage. Both units have dynamic premium sound systems as well. The GX660 starts at $1449.99 and the GX660R starts at $1749.99.
MSI, Notebook