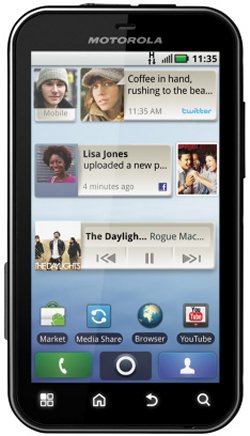 Motorola has confirmed a North American version of the Defy for T-Mobile. The rugged Android phone will ship by the holidays and is also getting some show time on the Oprah Winfrey Show today apparently. It's being called a US exclusive for the carrier.
The Defy is one of the first touch-only phones to be designed this rugged. It has resistance to dust, scratching and water, and is also the fastest with an 800MHz TI OMAP chip. It runs Android 2.1 with the full Motoblur social networking layer on top and currently only supports Flash Lite for a plugin. It also has a typical 3.7-inch display, a five-megapixel camera, GPS and Wi-Fi, but its outdoorsy design gives it a dual microphone that reduces wind noise and other background sounds.

If you like rugged, this is your Android phone.
Defy, Motorola, rugged, T-Mobile, U.S.