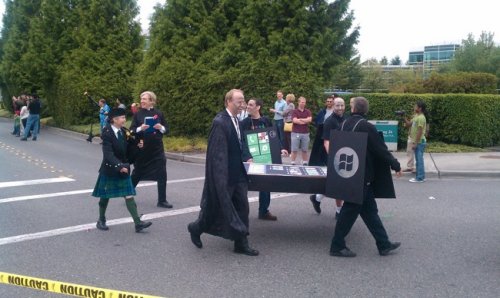 Last Friday Microsoft employees got out of their cubicles at the Redmond campus to attend a funeral parade that resembles some kind of geek Mardi Gras. There were apparently plenty of crazy outfits, like zombies, Darth Vader and even some Village People impersonations. They were there to lament the BlackBerry and iPhone's demise.
It looks like it was a sad affair as iPhone and Blackberry mock-ups were carried coffin style to the grave. Obviously Microsoft wanted to make a statement about the upcoming Windows Phone 7.

Where was all of this funeral spirit when the red ring of death was killing consoles like the black plague?
BlackBerry, employees, funerals, iPhone, Microsoft