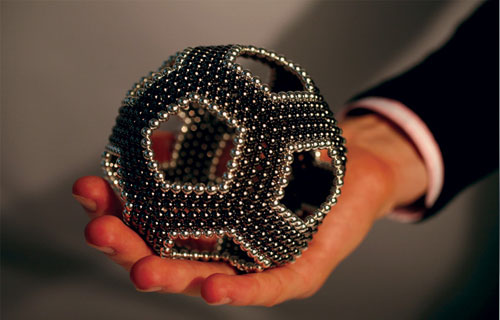 When it comes to geeky toys that we liked when we were kids and many adults still play with today, building sets are right up there. I would wager a number of geeks play with Lego to this day and on occasion, we see an awesome Lego sculpture turn up. A new and suitably geeky building system called nanodots has now surfaced.
Nanodots are tiny little magnets that are round and look like BB's. You can take the little nanodots and use them to build all sorts of shapes and other items with angles, flat surfaces and more. The magnets are powerful enough to keep their shape even with complex designs needing thousands of the little things.
The nanodots are available in packs of 216 in original nickel, black, silver, and gold colors. Pricing varies between $29.99 for the original, $34.99 for black or silver, and $39.99 for gold. Each set includes a carry case and instruction manual. These things are very cool, but if you have small kids around they need to be kept away from the nanodots.
building set, nanodots, Toys