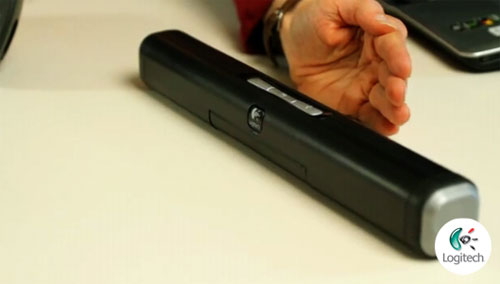 Of all the notebooks I have tired over the years it's safe to say that 99.99% of the have crap sound systems. They sound flat, lack volume so you can actually hear what's going on and have no bass. This is the reason there are some any different external speakers and headphone options around.
Logitech has announced a couple new laptop offerings called the Logitech Laptop Speaker Z305 and the Logitech Wireless Speaker Z515. Both speakers are aimed at notebook users with Mac or Windows machines. The Z515 is a wireless offering with a USB transmitter that uses 2.4GHz tech for 50-foot range. The speaker can also connect to the iPad or iPhone wirelessly as well.
Power for the Z515 comes from a rechargeable battery good for ten hours and it will ship this month for $99.99. The Z305 is a round speaker that uses 360-degree sound tech for all around sound. The thing needs only one USB port for connectivity and power. The USB cable tucks away when not in use and both it and the Z515 come with a carry case. The Z305 will ship this month for $59.99.
Logitech, speaker