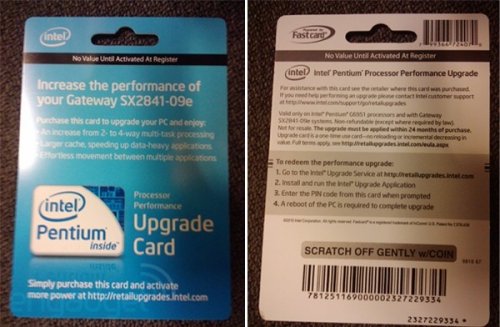 This one will make you angry if you want every bit of power from your CPU. Intel is asking customers to pay extra if they want to unleash the full power of their store-bought cpus. An Engadget reader was at Best Buy when he spotted this $50 card. Intel websites confirm it. The card lets you download software to unlock extra threads and cache on the new Pentium G6951 processor.
Hardware.info got themselves an early sample of the chip and it's a full 1MB of L3 cache that's enabled plus HyperThreading support. Chip companies already sell hardware-locked chips, so this isn't new. The process is called binning, but binned chips are usually sold with cores or cache locked because that part of their chips turned are defective after printing.

Right now Intel is just testing it out on this low-end processor in a few select markets.
50, card, charge, CPU, Intel, performance, upgrade