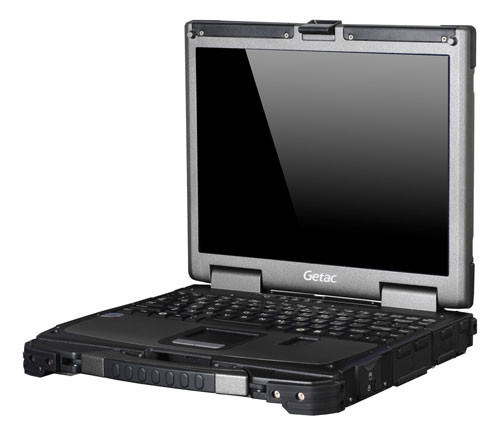 Rugged notebooks come in different levels of rugged. There are some that are only a bit more rugged than your average notebook and then there are some that are able to withstand the harshest of conditions and survive drops, water, and dust. The Getac B300 is one of the most rugged machines you will find.
Getac has announced that it has updated the B300 with some new specifications and features. The machine now gets a faster Intel Core i7 CPU running at 2GHz that can be boosted to 2.8GHz with Intel Turbo Boost tech. The machine also gets a standard 700-nit brightness LCD and has an optional 1400-nit rated screen.
That optional screen uses QuadraClear technology that makes it easy to read in direct sunlight in bright environments like sand and snow. The machine can also be fitted with a dual battery option allowing for 22 hours of straight use. Another nice feature is Gobi mobile broadband that works with multiple carriers. The machine meets multiple military specs for ruggedness. The starting price is $3799 for the machine and a unit with the optional screen and Gobi sells for $4499.
getac, Notebook, rugged