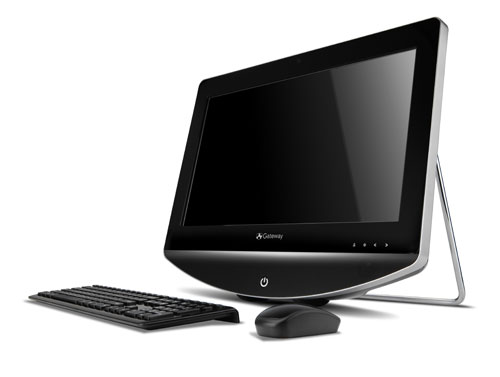 The desktop computer market has pretty much cooled off with most consumers looking to notebooks and netbooks for their computing needs today. The all in one computer is one of the most popular types of desktops and Gateway has announced a couple new AIO machines. The new AIOs include the Gateway One ZX4951 and ZX6951.
The two machines both share the same new design with a curved bottom that has lighting to make the keyboard glow in dark rooms. The main difference between the two is the 4951 has a 21.5-inch HD screen and the 6951 has a 23-inch screen. Both of the PCs can be fitted with Pentium or Core i3 processors.
Other features include HD resolution, Blu-ray players, and wireless keyboards. The 6951 also has a built-in TV tuner allowing it to be used for watching TV right out of the box. The machine has 4GB of RAM and can be optioned with 500GB or 640GB of storage. The machine also has HD sound with 5.1 channel audio. Pricing for the machine is from $899.99 to $999.99 depending on options and the machines are both available now.
AIO, desktop, Gateway