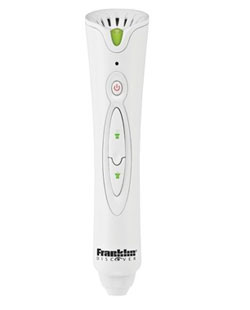 Franklin has been in the electronics market with things like digital dictionaries and spelling devices for a long time the company has announced a new digital reader that isn't like a Kindle as you might think. This digital reader looks like a pen and is aimed at kids that can't read yet.
The child and the parent would place special stickers on each page of any book to use the AnyBook Reader. After the stickers are placed the parent or reader would follow along and touch the sticker on each page.
As the stickers are touched the AnyBook will record the parent reading the book. Once the process of reading and touching stickers is done the child can come back at any time and touch the sticker to hear the recorded reading. The device comes in a version with 15 hours of storage for $39.99 and with 60 hours of storage for $59.99.
Franklin, reader, recorder