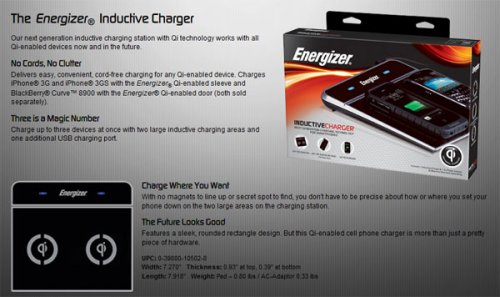 We love anything that helps us get rid of wires around here. So we are excited about Energizer's new inductive charger that is Qi enabled. Qi is the wireless charging standard developed by the Wireless Power Consortium, and should eventually make its way into more and more devices.
The charger will work with the iPhone or the Blackberry Curve 8900. The battery door for the Blackberry and the sleeve case for the iPhone 3G/3GS are both sold separately. Luckily, this device has enough room to charge three devices at the same time, which is nice.

The charger base will reatail for $89 and the sleeve or battery door are $34.99, each available in October.
BlackBerry, charger, Energizer, inductive, iPhone, wireless