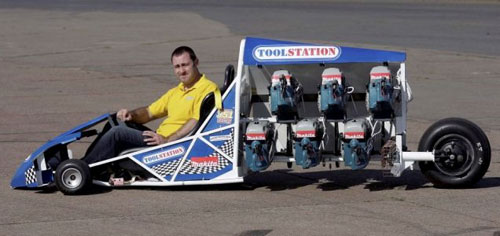 Give a geek some hardware, a bit of extra time, and a need for speed and they can come up with anything. A dude named Barry Lee has constructed his own mini dragster using six circular saws for power. The saws are 16-inch Makita units.
The dragster was created for a cool competition in the UK called the Power Tool Drag Racing Championships held in conjunction with the Royal Navy and Five's Gadget Show. The dragsters will compete against other DIY types and power tool companies for the win.
Lee calls his dragster Bolt Lightning and won't say exactly how fast it goes. Some mini dragsters can hit 70mph on a 320-foot drag strip. Lee will only say that the car exceeded his expectations. I can only imagine how irritating the thing sounds going down the strip.
DIY, vehicles