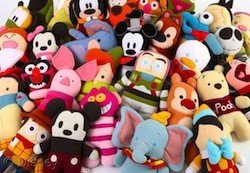 We don't have much in the way of details at the moment, but Disney wants to have some order in the web-connected toys market. Whether that means a goofy doll that surfs the web or a Mickey Mouse ebook that updates with bedtime stories, we have no idea. The company's consumer products division is all set to detail a proposal to establish a set of technology standards at the Engage Conference and Expo this month.
Armen Mkrtchyan, the head of Disney's "Toymorrow" team will be laying out the plan. He will talk about what kinds of standards Disney is looking at, and how those standards could lead to cost-savings and "increased playability."

That's about all we know for now. But you can expect more web-connected toys to follow.
Disney, standards, technology, Toys, web-connected