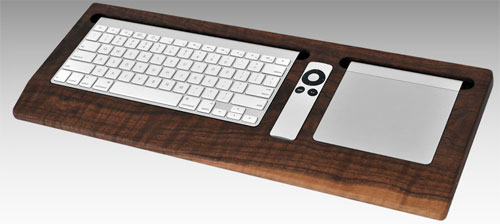 I am an unorganized person by nature and don't care for keyboard trays and other things that some folks use to keep their desk organized and tidy. I prefer to just set my stuff directly on the desk and work with what I have. There are a lot of folks out there though that want a keyboard tray and can't stand the clutter.
If you are one of these organized sorts and happen to use a Mac, Combine Collective has a cool new keyboard tray made from black walnut wood that may be the best-looking tray ever. The thing is hand-made in Canada with water-based glue and a food safe stain finish.
You can get three versions with one for $79 that will hold the keyboard, media remote, and Magic Trackpad. A shorter version for $74 holds the trackpad and keyboard only and a version for just the keyboard is $69. You can order the things right now.
Apple, Keyboard tray, Mac