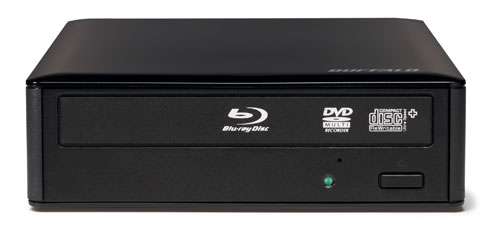 You can count on most notebooks and computers not having a Blu-ray drive today, though the Blu-ray drive is getting to be more common. With USB 3.0 ports now showing up on more computers we are seeing more gadgets specifically for these ports surface as well. Buffalo has announced a new USB 3.0 Blu-ray drive that can write media and play it.
The drive is called the USB 3.0 Blu-ray drive, it can burn BDR discs at up to 12 x speed, and it is capable of writing to CDs and DVDs as well. The drive connects to the USB 3.0 port for best performance, but it is also capable of working with the USB 2.0 port as well.
The drive can write up to 50GB of data to dual layer discs and can upscale standard DVD films to HD resolution. In addition to writing Blu-ray, the drive can also play Blu-ray movies and supports 3D films as well. The drive will ship this month in the UK for £199.99.
Blu-ray, Buffalo, USB 3.0