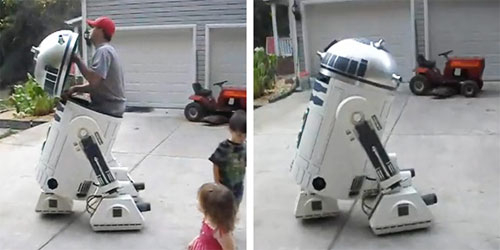 I really like to see some of the awesome DIY stuff that geeks come up with and when that stuff has to do with Star Wars it's even better. A dude has created his own DIY R2D2 bot that is larger than the actual robot so the guy can fit inside the ting to drive it.
The replica of R2D2 has a flip up dome that the guy climbs into. Once inside the robot he activate sound effects and somehow control how the thing moves around. It has fans inside too to keep the geek cool.
The details on exactly how he pulled this off are scant. All we know, other than it's awesome, is that the body is made from a white plastic drum. I would like some details about how the guy put this all together and how it's powered. Check out the video below to see it in action.
DIY, r2d2, robot