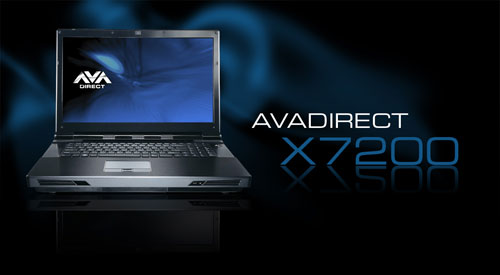 AVADirect has announced a new gaming notebook that it claims to be the fastest desktop replacement on the planet. A quick look at some of the features and AVADirect may be right, the thing is a beast. The X7200 has an aluminum case and sports two USB 3.0 ports.
It can be fitted with 12GB of triple channel DDR3 RAM and has three 9.5mm drive bays along with onboard RAID support. That is enough storage space for 2TB of HDDs or 1TB of SSD storage. The machine can be fitted with two NVIDIA GTX 480M GPUs with a total of 4GB of GDDR5 graphics memory.
The machine will be able to use the hexacore Intel processor and up to 12GB of RAM. AVADirect also plans a workstation version soon with 24GB of RAM and a pair of Quadro 5000M GPUs along with 6-core Xeon processors. The starting price for the gaming version is $2700 with a quad-core CPU, 3GB of RAM, and a single GTX 480M GPU.
AVADirect, gmaing, Notebook