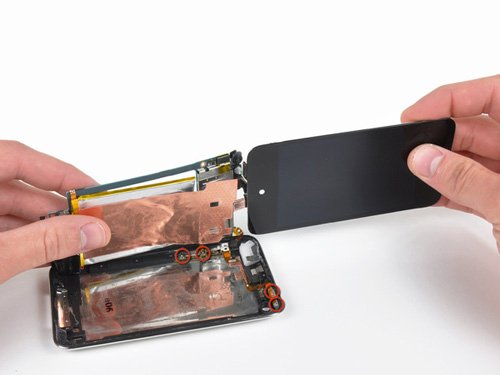 The folks at iFixit continued their investigation of the latest round of iPods with a teardown of the fourth-generation iPod touch. They went deeper than the FCC teardown, and confirmed that the Wi-Fi antenna has been moved to the front, eliminating the need for the black plastic window on that earlier models had. It also shows that Apple is using Toshiba flash memory for the main storage on the iPod; other Apple devices usually use Samsung.
The A4 processor model number is the same one as in the iPad and confirms that it's using 256MB of RAM. The iPhone 4 has a different label to indicate that it has 512MB. The headphone jack is removable for the first time, and there's a gap around the battery that simplifies removal.

With this new design, the anti-interference shield is now one of the heaviest components, weighing a tenth of the total body.
4th-gen, antenna, ifixit, iPod Touch, teardown