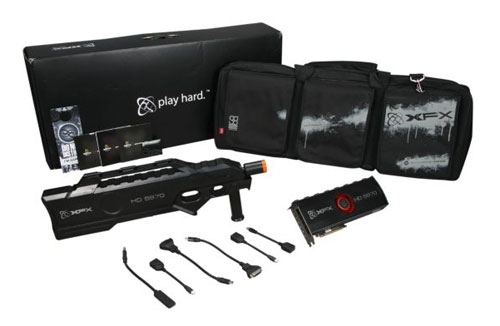 There are video cards that are ok and aimed at the mainstream user looking for a budget offering. There are also video cards that are massively powerful and unabashedly expensive like the new XFX Radeon HD 5970 Black Edition Limited that is on Newegg now.
The video card is the most powerful Radeon card you will find and has dual GPUs that are cooled by a dual-slot heat sink and fan. The card has 4GB of RAM with each GPU getting 2GB. It also has six mini-DisplayPorts.
The card comes with adapters that can turn those six mini ports into other connectivity options like DVI. The card supports Eyefinity and many other features. It comes in a box that looks like a P90 assault rifle and sells for right under $1200.
Video Cards, XFX