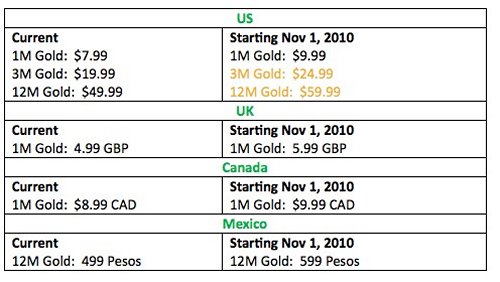 Here's some sad news. We can't say it's unexpected though. Microsoft's Major Nelson has just announced that Xbox Live Gold will be getting more expensive not only in the US, but also in the UK, Canada, and Mexico starting November 1.
One month will go from $7.99 to $9.99, three months will go from $19.99 to $24.99, and the yearly subscription will now be $59.99, up from $49.99. Microsoft is running a "lock in" promo for a discounted $40 one-year Gold sub starting November 1, which is nice if your subscription is ready to expire around then.

Not a great move to be raising Live prices right before launching Kinect, which hits gamers up for still more dough.
gold, live, Microsoft, price increase, xbox 360