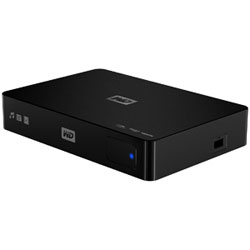 Western Digital has unveiled a new product that hits two digital media birds with one stone. The device is called the WD Elements Play, can store lots of media, and lets you view that media on your TV.
The device is a smallish square box measuring 1.6″ H x 8.9″ L x 5.9″ W. Inside the black box hides a HDD of 1TB or 2TB capacity allowing for the storage of lots of digital files and video in various formats.
The device supports full 1080p HD video and has lots of connectivity options. Those options include USB 2.0, component, composite, and HDMI outputs. The Elements Play device also supports digital audio.
media player, Western Digital