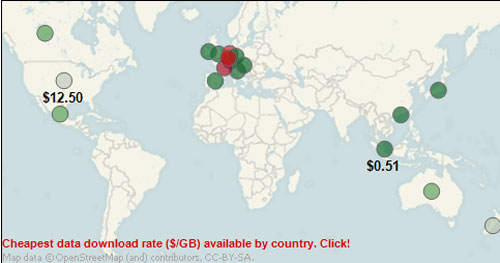 I think that we all know AT&T and the other major carriers in the US charge us way more money than they really need to. They can cry about how much data smartphone users consume all day, but the fact is we pay much more for the data we use than other countries.
Wired put together a nice little chart comparing the price of downloading a gigabyte of data around the world. The US came in at number six on the list with a price of $12.50 per gigabyte. The most expensive place was France with a cost of $25.47 per gigabyte.
The cheapest place on Earth for data download is Singapore at an average of $0.51 per gigabyte. The UK has a wide range of data prices depending on carriers of $7.80 per gigabyte on O2 and Vodafone down to $3.90 on Orange and $2.34 on 3.
AT&T, data, iPad