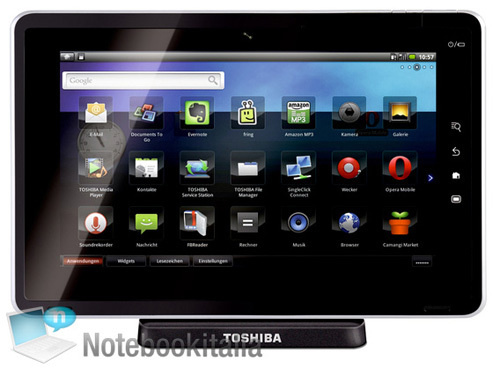 The Toshiba SmartPad will now be known as the Toshiba Folio 100. We now know about the name change, but specs for the Folio 100 have leaked as well and it's supposed to run Android 2.2. The Folio 100 will have: A Nvidia Tegra 2 processor, multitouch display ,10.1 "widescreen WSVGA (1024x600pixel), 2 stereo speakers and a microphone.
There's also 16GB of internal memory, 802.11b/g/n WiFi, Bluetooth, 3G, an HDMI port, USB 2.0 standard, USB 2.0 mini audio jack, SD card reader, and 7 hours of battery life.

It's looking like a solid tablet that should do well. Toshiba is also talking about it's own app store.
details, Folio 100, SmartPad, Toshiba