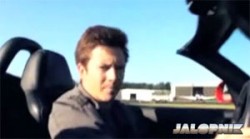 I really like cars and have been a big fan of Top Gear for years. The only thing that bothers me about the UK version of Top Gear is that they often hate on American cars and are known to get the facts of some cars completely wrong.
Long ago, there was rumored to be a version of Top Gear in the works for the US market with Adam Corolla. That program was cancelled before it even aired.
Apparently, the show was recast and is indeed coming with the first trailer for the show turning up online. The only cast member left from that original is Tanner Foust. The other two cast members include Rutledge Wood and Adam Ferrara.
Cars, home entertainment, tv