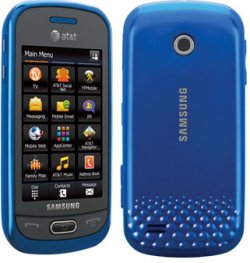 The Samsung Eternity II and Samsung Flight II handsets from AT&T will finally be arriving on the scene August 15th. The Samsung Eternity II packs a 3″ touchscreen display, with an optional AT&T Mobile TV powered by FLO TV. There's also a full HTML web browser, one-finger zoom, a 2.0 megapixel camera, email support, music and video playback and AT&T Social Net for all of your Social Network needs.
The Samsung Flight II is more basic and sports a touchscreen display, a slide-out horizontal QWERTY keyboard, a 2-megapixel camera, full HTML web browser, email support, and music and video playback.

You only have to wait a few days.
AT&T, Eternity II, Flight II, Samsung