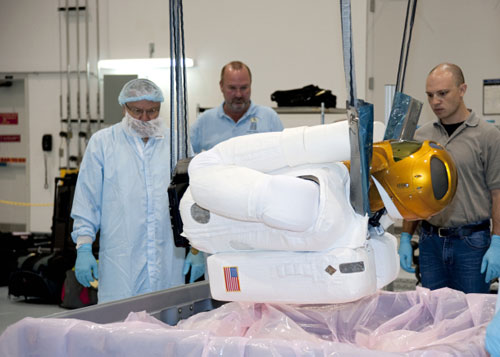 I have talked before about Robonaut 2 or R2 as it is known. R2 is a robot built by NASA and GM to work in space with humans. R2 is one of the most capable robots ever built and can handle a wide variety of tools thanks to complex articulating hands.
The mission that will take R2 to the ISS this fall is coming close to launch. NASA has been looking at how to pack up R2 safely for the trip aboard the space shuttle while still making it easy for astronauts to unpack R2.
NASA researchers came up with a foam-lined box that has been dubbed Sleepr or Structural Launch Enclosure to Effectively Protect Robonaut. NASA and its acronyms, they should have just called it R2′s box. R2 is placed in the box on a rack minus his legs and should be easily put together on the ISS.
NASA, Robonaut, robot