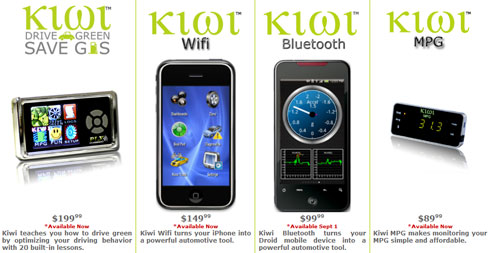 One of the keys to driving with an eye towards being green and improving economy is to watch how you accelerate and keep an eye on mileage figures. Some cars have onboard computers for this, but others lack such systems.
PLX Kiwi has unveiled several cool products that plug into the OBDII port on modern cars, can monitor all sorts of things on the vehicle. The Kiwi Drive Green Save Gas module monitors green savings, and offers 20 green driving lessons.
The Kiwi WiFi is a hardware software combo for the iPhone that turns the iPhone into a tool to read error codes and monitor vehicle performance. The Kiwi Bluetooth is the same thing as the WiFi only the Bluetooth version is specifically for Droid devices. The Kiwi MPG is simply a MPG gauge to help you keep an eye on your economy. Prices range from $89.99 to $199.99 and all are available now except the Bluetooth offering set for September 1.
Andorid, Green, iPhone, Software