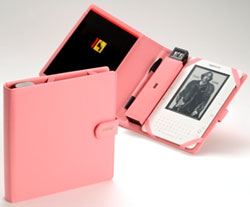 I have used several eReaders over the years and they are nice as long as you have light to read by. Once it gets dark you can't read from the screen of most eReaders, unless the reader uses a LCD like the iPad. EInk displays lack a backlight.
For the eReader like the Nook or Kindle 2 if you want to read in the dark you, need a light. Periscope has announced that its Lighted Folio is now available to fit the Kindle 2 and the Barnes & Noble Nook. It has the same hideaway dual LED light to read by.
The light is powered by three AA batteries that are good for 40 hours of use each. The Folio also has a 5 x 8 pad of paper on the left side and holds a pen for note taking. You can get the Lighted Folio in pink or black for $49.95.
eReader, Folio, periscope