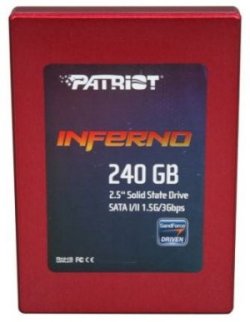 Only a few weeks after their announcement, three of Patriot's newest Inferno series SSDs(The 60GB, 120GB and 240GB models) are now available for purchase across the pond. These 2.5-inch SSDs feature the latest SandForce SF-1222 controller, MLC NAND Flash memory chips, a SATA 3.0 Gbps interface and will give you read and write speeds of up to 285MB/s and 275MB/s.
The 60GB, 120GB and 240GB models are priced at 165 Euro (That's about $210 to you and I), 289 Euro ($370) and 589 Euro ($760).

Those in Europe can now rush out and buy some.
120gb, 240GB, 60GB, europe, Inferno, Patriot, SSD