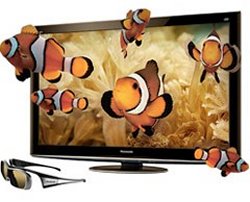 The 3D onslaught continues. Now Panasonic has a new pair of 3D plasmas for gamers, with their Viera 3D GT25 range. There's the 50-inch TC-P50GT25 and the 42-inch TC-P42G25.
The latter is the company's first-ever 42-inch Full HD 3D plasma. Both will require active shutter glasses in order to use. Features include a 1080p panel, 600Hz sub-field drive, 24p playback and 2D-to-3D conversion. The pair should hit retail shelves by the end of the month.

The smaller one is $1,699.95 and the big one is $2,099.95.
3D, 4.2, 50-inch, GT25, Panasonic, Plasma, Viera