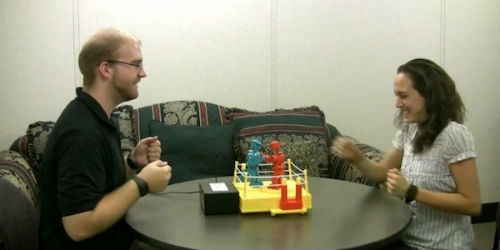 Rock 'em Sock 'em Robots have gone all futuristic on us. Zachery Shivers and Anne Flinchbaugh have created a motion-controlled version of the game as part of Texas Instruments' Co-op Design Challenge. This version, unlike the original has plenty of servos and circuit boards underneath the ring.
But the main event here is TI's accelerometer-equipped Chronos watch, which lets you translate actual punches into rock 'em sock 'em punches. Awesome.

Knock his block off.
DIY, Motion-controlled, Rock 'em Sock 'em Robots, texas instruments