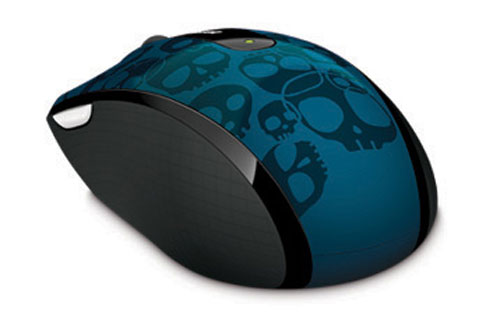 Microsoft has pulled the covers off a new wireless mouse that can be had in six different colors and patterns called the Wireless Mobile Mouse 4000. As the name suggest the mouse is aimed at the notebook user looking for a mouse to use on the go.
The 4000 uses Microsoft's BlueTrack technology and has a plug-and-go-nano transceiver, 2.4GHz wireless technology, and a 10-month battery life. The mouse comes in two models that are the same and only differ in the patterns offered. The D5D-00068 will be offered in many locations and comes in a bright pink Pirouette design, a white and gray design called Downtown, and a skull design called Crania.
The other model is a Best Buy exclusive and is the D5D-00063. It comes in a blue pattern called Micro, a black pattern called Cosmic, and a pink pattern called Botanic. The mice will all sell for $39.95 and will be available soon.
Microsoft, mouse