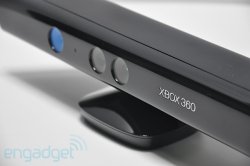 Microsoft's new controller-free Kinect for the Xbox 360 will be hitting the US on November 4th. But what about Europe? Well, we've learned that it will officially hit Europe, the Middle East, and Africa on November 10th.
Sure, that's quite a wait, but until then you still have your hands and plenty of titles to play. And just so you are aware, we're looking at the same 15 exclusive Kinect game titles already announced at E3. Otherwise nothing new.

It will be interesting to see how well the Kinect goes over with gamers.
europe, Kinect, Microsoft, xbox 360