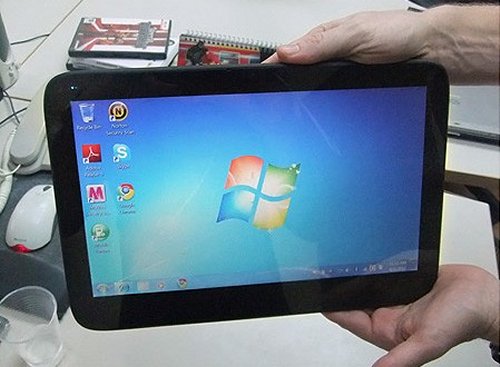 Windows 7 wasn't exactly meant for tablet devices, but we are seeing it on tablets more often. Now Pegatron has their new MasterPad prototype tablet, measuring just 14mm thin with an 11.6″ IPS (In Plane Switching) display, running at 1,366 x 768 widescreen resolution.
Some other specifications include a 1.3-megapixel webcam with a microphone, USB ports, a memory card reader, an accelerometer, a mini-HDMI port, 3G and 32GB or 64GB SSD options. The body is magnesium and aluminum alloy. The 2-cell battery is a bit disappointing but hopefully the final product will better.

An Intel Atom N450 1.66GHz processor runs it all with a HD video-processing chip. The MasterPad should arrive within a few months.
MasterPad, prototype, windows 7