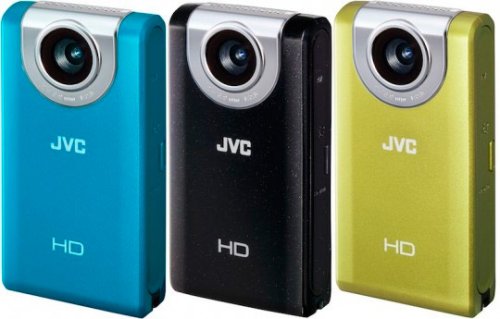 JVC is no stranger to the handheld camcorder market and now it has decided to get into the pocket camcorder business. The company is introducing the Picsio GC-WP10 and GC-FM2, both of which are capable of 1,920 x 1,080/30fps clips.
They also feature built in image stabilization, an HDMI output, a 3-inch rear touchscreen, compatibility with EyeFi's WiFi-enabled SD cards and a time-lapse recording feature. The WP10 has a waterproof enclosure, but no optical zoom. Both units have a pop-out USB plug and an SD / SDHC / SDXC card slot, while the WP10 adds an MP3 audio recorder.

The FM2 will arrive early next month for $179.95 and the WP10 in late September for $20 more.
1080p, GC-FM2, GC-WP10, JVC, Picsio, pocket camcorders