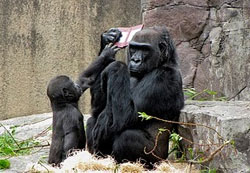 A gorilla at the San Diego zoo recently came by his own Nintendo DS portable game console. The DS appeared in the gorilla habitat when a boy visiting the zoo dropped it inside.
The gorilla picked the DS up and proceeded to mess with it to try and figure out exactly what it was. I wonder what he would have done if the thing was tuned on when he picked it up.
I particularly like when the baby gorilla tried to take it from the big gorilla who wouldn't give the thing up. The DS was saved from the gorilla by a trainer who traded the DS for an apple. It still worked, though it had a nice coating of gorilla slobber.
gaming, Nintendo DS