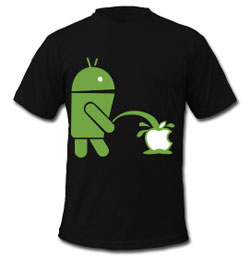 Things are looking great for Android. Google chief Eric Schmidt must have been feeling elated when he revealed that his company is now activating 200,000 Android phones a day. That number is 25 percent higher than the 160,000 per day from late June and is double the 100,000 phones that were being switched on just three months ago. People really love them some Android.
Schmidt said he wasn't sure how long it would continue. He isn't concerned about the free licensing hurting revenue since many Android owners run Google searches that pop up ads and generate revenue from impressions and click-throughs. He noted that iPhone owners also make money for Google that way.

If this pace continues, Google is moving over 18 million Android devices, or roughly twice as many devices as Apple, who shipped 8.4 million iPhones, and several million more than RIM's 11.2 million BlackBerries.
Activated, Android, Google, phones, sales