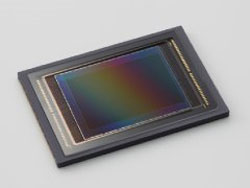 When it comes to digital cameras, most of them have the same basic features and the biggest difference between models is often the resolution alone. When it comes to resolution the main thing higher resolution gets you is images that can be printed larger and still look good.
Canon has announced a new CMOS sensor for digital cameras that is the world's highest resolution APS-H-size image sensor with 120MP. The new sensor measures in at a small 29.2 x 20.2mm. The typical image sensor of this size has only 16.1MP resolution.
The 120MP resolution of the new sensor from Canon is 7.5 times larger than the average similar sensor with 2.4 times more resolution. The high resolution was reached with improvements in parallel processing signal counts and improvements in readout circuit timing. The new sensor can also do 1080p video.
Canon, Digital Cameras