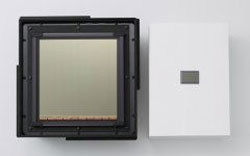 Canon has a bunch of cameras on the market that run the gamut from entry-level units up to high-end professional cameras. The company also designs and builds its own hardware like sensors and lenses for use on its cameras as well.
Today Canon has announced the world's largest CMOs sensor with a size of 202 x 205mm. A sensor that large will surely be expensive considering that only one can be made from the typical 300mm silicon wafer. Canon says the sensor is 40 times larger than its next largest commercial CMOS sensor.
That is a giant sensor anyway you look at it. The massive sensor size allows it to gather more light than other sensors making it have unprecedented low light performance. The sensor also has an improved circuit design that makes it capable of recording video at 60 fps with only 0.3 lux of illumination. That is about half the light seen on a typical moonlit night.
Canon, CMOS