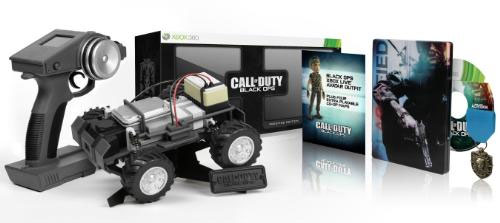 It seems like just about every game that comes out gets a special edition of some sort. Often those special editions aren't that special with the only additions being some free DLC or maybe a book of artwork you will never look at.
Activision has announced an awesome special edition for Call of Duty: Black Ops called Prestige. The Prestige collector's edition gets the game and some free DLC along with a medal. The awesome bit is that the edition comes with a badass remote control surveillance vehicle.
The surveillance RC vehicle is inspired by one used in the game. The RC car is a working toy with a 200-foot wireless range. It has a video camera that can shoot audio and color video back to a small TFT LCD on the controller. Pricing is unknown, but I want it so bad.
Activision, Call of Duty, game