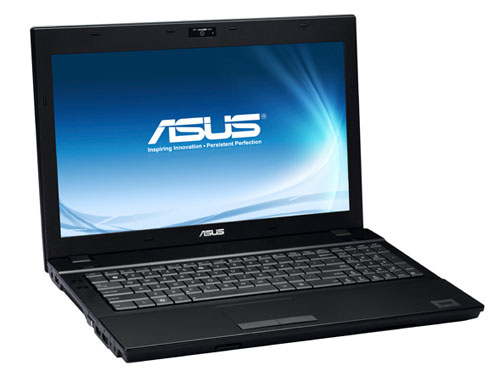 Asus has announced a new line of notebook computers that are aimed at the business user. The machines have some of the same features like matte finish LCDs and Boston Power Sonata batteries.
Those batteries claim a longer usable life than many other batteries on the market. The B series has the B53J, B53F, B43J, and B43F. The 53 models have 15.6-inch screens and the 43 units are 14.1-inch notebooks.
The 53J and 43J have Intel Core i5-520M or i7-620M options, a ATI 5470 GPU, 2GB of RAM, and a 320GB 7200 rpm HDD. The 53F and 43F models have Intel Core i5-520M CPUs, Intel GMA graphics, 2GB of RAM, and 320GB 5400 rpm HDDs.
ASUS, Notebooks