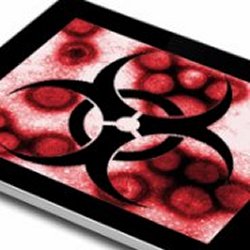 Apple fanboys have long gloated about the "fact" that Apple users are safe and secure compared to PC users. It's utter nonsense of course and here's further proof. Owners of the iPhone, iPod touch or iPad need to be careful. Visiting a web page and loading a simple PDF file might actually set off a security bug that affects all iOS 4-powered devices.
All it requires is for the user to visit a web address using Safari, and the site will automatically load a simple PDF document that holds a font which hides a special program. When the IOS 4-powered device you are using displays the PDF file, the font will begin the stack overflow condition that allows embedded code in the font to gain full control of your device.

That means that the program can do whatever it wants, like deleting files, transferring files, installing programs, etc.
Apple, iOS 4, iPad, iPhone, Security