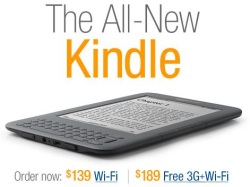 Amazon.com released an announcement on Wednesday bragging up sales of its new generation Kindles along with touting earlier-than-planned shipping which started Wednesday, two days ahead of schedule. Unfortunately Amazon didn't exactly say how many of the new Kindles they have sold, but they seem to be pretty sure it's a lot.
What they did say is that they've sold more of this new version in the first four weeks of pre-sales than they have with any other new version. Amazon also reports that the Kindle was still the best-selling item for Amazon.com and Amazon.co.uk overall. No doubt this must be partly because the Kindle seems to be the most advertised item on Amazon's home page.
Amazon says the newest version of the device is smaller, lighter, turns pages faster, can hold twice the number of books and has a battery that lasts up to a month with the wireless connection turned off. The new generation Kindle has been available for pre-order from Amazon since the end of July and started shipping on August 25th. Amazon's site currently says the WiFi version for $139 is sold out and is available for a mid-September delivery. The 3G+WiFi version is available for shipping now.
3G Kindle, Amazon, Amazon.com, kindle, New Generation Kindle, WiFi Kindle