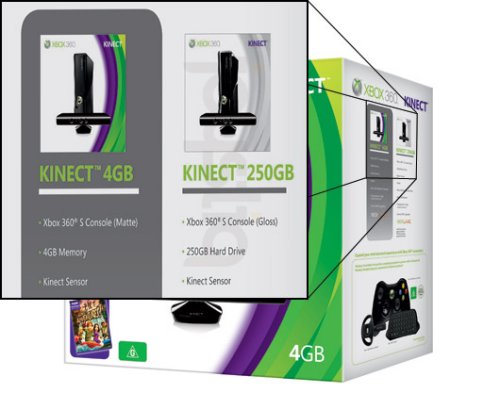 Looks like we can expect another Xbox 360 bundle soon. The bundle has not yet been announced, but a 250GB Xbox 360/Kinect bundle can be seen on Microsoft's Australian packaging for the 4GB Xbox 360 / Kinect box.
The 250GB bundle looks similar to the 4GB bundle, with a larger capacity hard drive, a glossy finish, and it includes a headset. We aren't sure what game comes with the bundle, but it's most likely Kinect Adventures.

The 250GB model also has the following note: "Hard Drive includes game and demos." Apparently Microsoft is putting the pack-in game on the hard drive itself.
250GB, 4GB bundle, bundle, Kinect, packaging, xbox 360