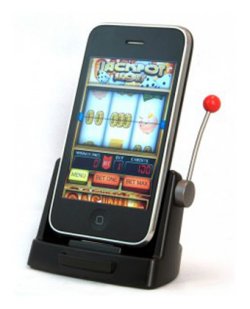 Jackpot Slots is both an iPhone app and a dock. Seems like it is perfect for the grandma in your life who gambles. That's right, your iPhone can now become a tiny one armed bandit.
As is often the case with gambling, you will lose more than you make. The Jackpot Slots dock costs $40, so you are out that much right from the start. It includes the eponymous app which gives you access to several different slot games "of varying levels of difficulty."

You can also compete in slot tournaments, win prizes, and just generally satisfy your gambling addiction. All with an iPhone and a dock.
Dock, iPhone, slot machine