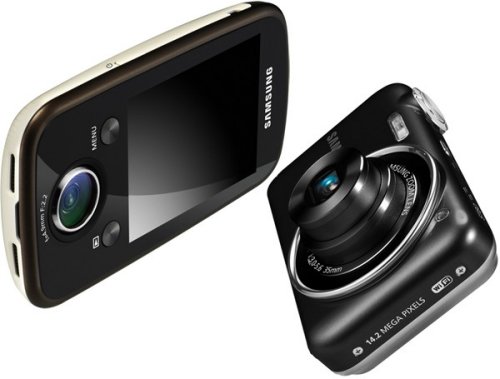 Samsung ST80 is the latest digital camera to feature Wi-Fi, allowing you upload images directly via DLNA or email. It features 3x optical zoom, a 3″ WQVGA touchscreen display, 720p 30fps H.264 video recording, and Samsung's Smart Crop feature that lets you take angled shots with the ability to straighten them up.
Expect this one to hit the market in September for $250. Perfect for those who want to transfer photos from their camera to a computer without a physical cable.

Then there's the HMX-E10 pocket camcorder with 270-degree swiveling lens and 1920 x 1080 30p H.264 HD video recording. That touchscreen is a 2.7-inch LCD, the lens has 2x digital zoom. Connectivity is HDMI and USB.
camera, HMX-E10, Pocket Camcorder, Samsung, ST80, swiveling-lens, wi-fi